The End Of
SELF-JUDGEMENT
The End Of Self-Judgment!
Would you like to reduce the noise of your incessant negative mind chatter? Or, maybe just have a nicer internal commentator? Then this course is for you!
We recently did a webinar and asked: "Put your hand up if you judge yourself"' Out of the eighty people on the webinar EVERY SINGLE HAND WENT UP!
So . . .we decided to do a course specifically about how to have less self-judgment! In fact, we did a before and after course survey with the live participants and when the results were in, on average the group had a massive 70% drop in self-judgment!
A MASSIVE reduction in self judgment
A MASSIVE reduction in negative self talk
A huge change in perspective as to what 'the self' actually is
A deeper and more profound connection to a presence behind all things
Non-dual experiences of expansion and oneness
An expansion of heartfelt emotions like compassion and gratitude
Previous attendees had a 70% drop in self-judgment
Start to uncover an unconditional peace of mind
Connect with a deeper presence behind all life
What students say about the program
"For me, this was the end of self jugment."
'Jules and Rudi comes from the heart, that is what causes the change in others, the Wholality of experience just takes away all that self judgment. It's just such a huge relief, such a relief not to be focusing on what's wrong with us, and how can we fix it to, come back to the relief of our natural cycles and we are already ok, wow what a feeling inside!'

Rachel Jewell, Author and Coach
"I experienced an unconditional freedom"
I am experiencing more peace than I have ever experienced and no fear- even though my husband and I have currently lost our jobs. From a logical point of view it makes no sense that I don't feel fearful, but I don't! It's just incredible to me, such a blessing, and I know that this understanding (Wholality®) is why this is for me.'

Justine Bonney, Psychologist
"I now understand the nature of may mind in a more profound way."
After this course, I felt lighter and more able to distinguish that noisy inner critic from the deeper presence available within us all which has created a gentler way of being in the world. Also, Rudi and Jules taught with simplicity but also from a profound level of direct experience of the oneness of life.

Tony DeViller, Engineer
View on any device on or off-line!
 Download the app and view on the move, or just watch on your home desktop computer

Watch the videos and listen to the audios without being on-line!
Listen to the audios with your phone screen off
Access to an in-app community of others on this specific course (no need for FaceBook!)
Chart your progress with day to day wellbeing and check ins and see your peace of mind increase over the 28 days.
Your personal access to peace of mind in your pocket and wherever you go- even with out any internet connection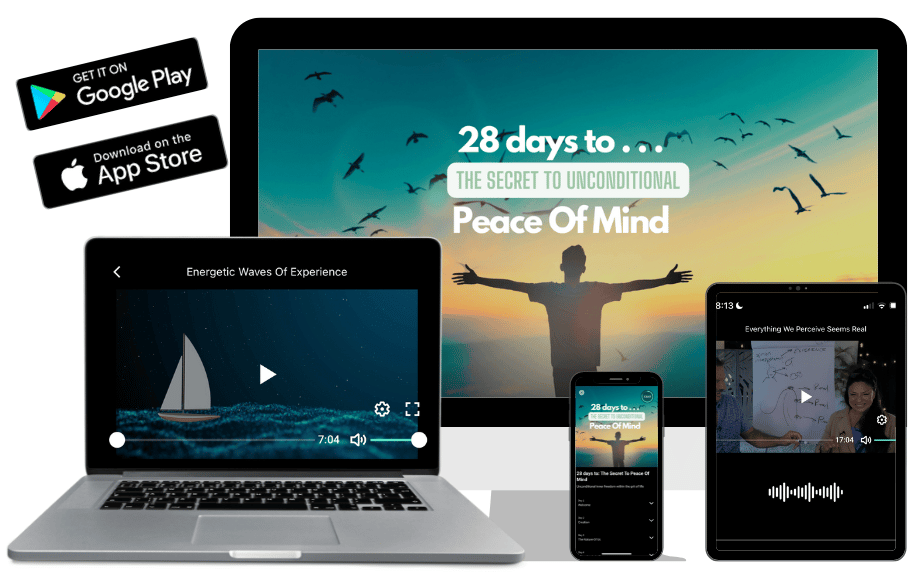 Are you ready to turn down the noise of self judgment?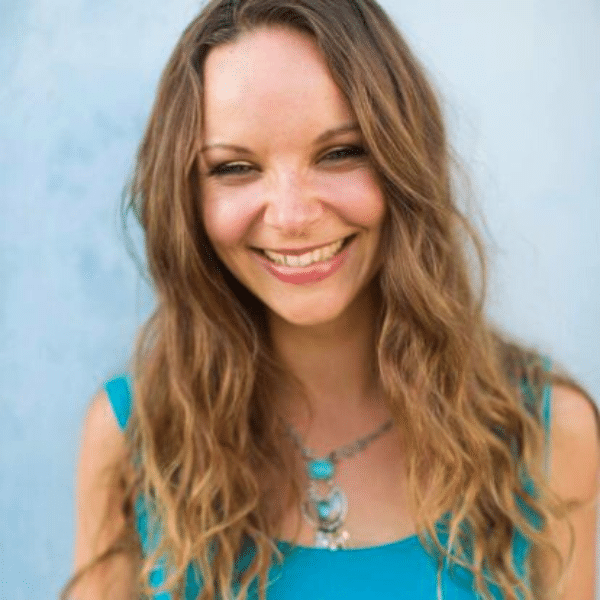 Fawn Miller
Life, Fun, and Purpose Coach 
"My clients I invited on the training had an actual embodied sense, an experience of things they had read or only known theoretically before!"
I had invited a number of my clients to this live training and wondered how Rudi and Jules were going to open them up to a bigger perspective on life. I wasn't disappointed! They managed to really expand people's awareness of the spiritual nature of life without being 'out there' and in a very grounded, and scientific way, that also released a deeper feeling or expansion within them. 
My clients finally had an actual embodied sense, an experience of things they had read or only known theoretically before. They all got so many insights, benefits, and good things to say about the course, I was so glad I invited them!
We are a married couple, authors and entrepreneurs. Jules had a near death experience and came back with a full recollection of everything she experienced on the 'other side' in essence the non-physical laws that govern physical reality and the human experience. Rudi originally trained in many modalities including Clinical Hypnotherapy, NLP, and Psychology then qualified and trained others in Mindfulness Meditation, Reiki, Chi Gong, the Three Principles and Non-Duality. 
Together we are authors, international speakers, and run an accredited training academy based out of Hawaii. We have both had direct experiences of states of consciousness you could define as 'oneness' or 'altered states' and we bring this expanded perspective to the trainings, while keeping it grounded and complimented by science based studies.
Yes. Once enrolled it is SUPER user friendly, no tech skills needed. Just press play to listen to the audio or watch the videos!
Please select how you wish to enroll below (pay in one go or in installments)
You will be taken to a page where:
a) if you are a previous customer you will be asked to log in to pay- then after payment taken directly to your 'Learn' page where you will see this product
OR
b) If you are a new customer please select 'sign up' and enter your details, pay the amount, and then you will be automatically taken to the course or your 'Learn' page if you have bought more than one product
The system will recommend that you download the app- it will be up to you if you want to or not.
No! You are welcome to watch the training without downloading the app on your home laptop or desktop computer. However if you use a mobile phone or tablet we definitely recommend downloading the app (which the system will ask you to do when you buy a course), as this will release the full benefit of the program while on the move